Named for its intended use, the K2 Excavator specializes in digging deep trenches on groomers and displacing powder after the storm cycle. Built around a mid-wide outline with a dual-radius sidecut, the K2 Excavator snowboard caters to the advanced level rider looking for a directional snowboard to carve on groomers and float in the soft snow.
Built around a wider perimeter with a dual
-
rad
ius sidecut, the Excavator is unisex in approach
and caters to advanced riders, carving groomers, and floating in powder. The wider profile of the
Excavator allows riders to size down around 5cm from their usual length without sacrificing
performance. This
extra width and 20mm taper benefits riders with larger feet, reducing toe drag
on deep carves and long traverses.

Inside, K2 uses their smooth

-

flexing S1 Core to keep it responsive and damp underfoot. Finally, they

top it with their ICG™ 10 Biax Glass with tip

-

to

-

tail carbon stringers. This technology lets them

keep the snowboard relaxed torsionally for easy turn initiation but helps to add snap over the

entire length of the board. They've also added their pre

-

cambered Carbon Power Forks™ in the

tail to allow for an e

nergy boost into and out of turns and those spontaneous "Slow Sign" ollies.

This tech is sandwiched between a wax

-

infused Sintered 4001 base, waxable and supremely

durable P

-

Tex sidewalls, and a snow

-

shedding SnoPhobic™ top sheet.

Terrain: Powder, Groomers, and Resort Riding

Riding Style: Confident Deep Turns On-Piste

Ability Level: Intermediate to Expert


TECH
SnoPhobic Topsheet –
Helps eliminate snow build up when it gets deep.

ICG™ 10 Carbon Glass –
Increases pop, liveliness, and longevity of the snowboard without adding
unnecessary rigidity.
Carbon Power Forks – Pre-cambered Carbon in the tail helps to add snap to
ollies, increase edge pressure, and give energy in and out of turns.

S1 Core –
Renewable, Durable, and Aimed to Increase Edge Pressure
5 Year Warranty.

Wax-Infused Sintered 4001 Base –
Hard, Fast, and Durable. Wax-infused for a Better Glide.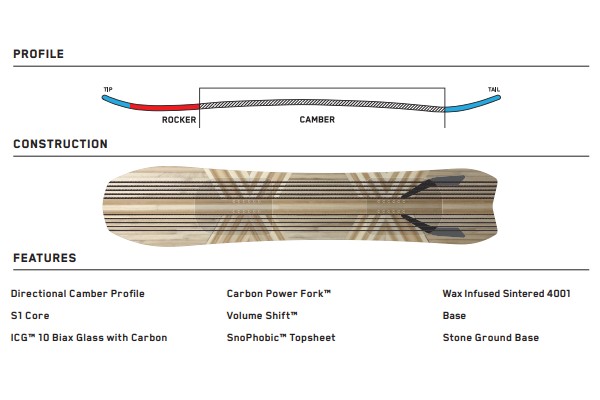 KEY FEATURES

Directional Camber Profile, S1 Core, ICG™ 10 Biax Glass, Carbon Power Fork, Wax-Infused Sintered 4001 Base, 2x4 Insert