RIDER TYPE: The freerider looking for a lightweight and versatile all-terrain ride.
The RESORT V3 Profile provides the best of both worlds. It has a raised camber platform through the inserts to retain high-speed edge hold through variable terrain, elevated contact points to land and float in powder, and traditional tip and tail arcs for smoother transitions.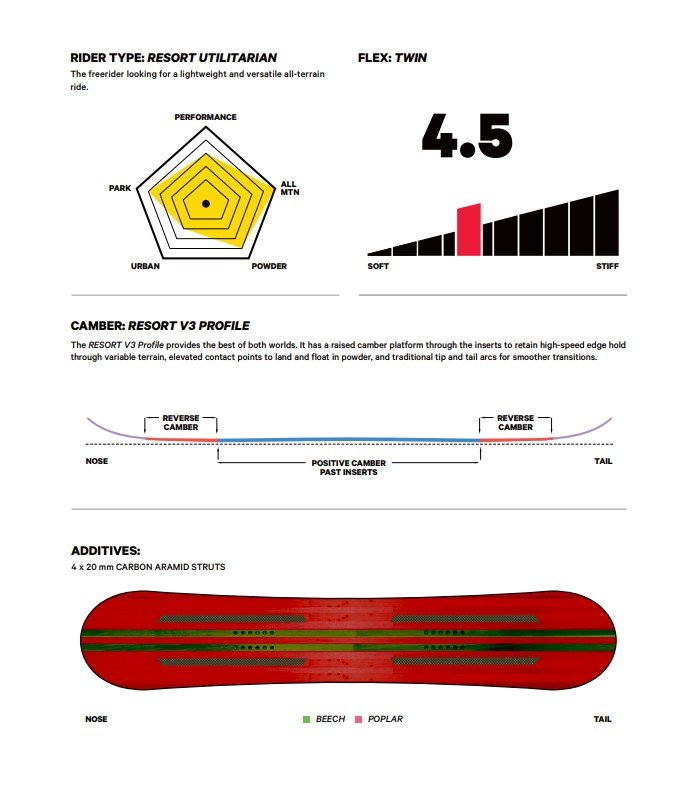 TECH:
NEW! FSC® CERTIFIED MULTIZONE CORE™
Poppy lightweight Poplar core combined with Beech for increased power and durability. Newly reeengineered to taper between the insert packs for a more forgiving flex.
CARBON ARAMID STRUTS
Mixed material technical weave yields an optimal blend of performance and strength.
SPECIAL BLEND FIBERGLASS + MAGIC BEAN™ RESIN
Custom weighted Biaxial top / Biaxial bottom = increased strength and durability.
Impregnated with high performance plant based MAGIC BEAN™ RESIN for the most powerful and dynamic ride.
SUPERDRIVE™ FX BASE
Similar to the SUPERDRIVE™ EX, the newly formulated FX base is more transparent, yielding clearer, more vibrant graphics.
• Multitech™ Level 5 DeepSpace™ Silkscreen + PAM16000™ Topsheet w/ Metallic Underlay
• Silkscreen Base
• PLT Topsheet Technology™
• 360 Degree HRC48 Steel Edges
• Full ABS1000 Sidewalls
• Stainless Steel 4 x 2 Inserts